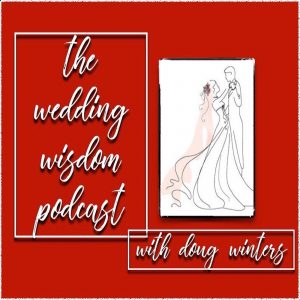 "I believe cake is food," says Sylvia and her cakes live up to her claim, as she uses the best butter, freshest fruit and her own butter cream. "Absolutely everything is fresh" – Sylvia Weinstock

Episode 53 features an extraordinary interview with the Grande Dame of the wedding industry, the fabulously upbeat, endlessly creative Sylvia Weinstock. Sit back and allow yourself to be treated to a delectable journey that follows her from her college days with her beloved Ben and her almost seventy year marriage and her start as a schoolteacher on Long Island who became the brilliant cake guru who found the ability and creativity to replicate a true-to-life Fabergé egg into gold and silver-leaf edible works of art.
Sylvia is truly one of the original wedding innovators, as you'll hear from the delectable range of topics covered in my episode with the legendary "Queen of Cakes" (as the New York Times called her), which runs from her thoughts about  "weddings as theater"  to the impact of changes in the economy,  "Tribeca in the early days, when marijuana grew on fire escapes," the wonderful way she discovered her trademark big black round glasses to mothers of the brides and their "great expectations," and the thrilling evolution of her world-famous business.
Enjoy every delicious moment of my conversation with the one-in-a-million, beautiful, vivacious, artistic genius who is still fantastically energized by life and truly forever young as she revs up for an incredible milestone birthday.
Thanks for everything, Sylvia!
-Doug