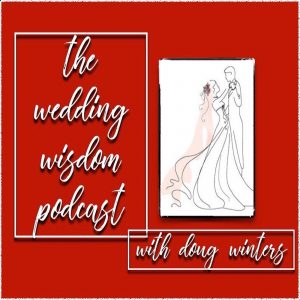 For episode 60, I was joined by one of the most gregarious, open-hearted and passionate industry influencers I've ever met.  As the Business Development Mgr at Party Rental Ltd., Jim McManus is often considered the face of the company, which was actually founded by Michael and Sunny Halperin back in 1972.
Jim is the ultimate podcast guest — a totally engaging, knowledgeable and colorful raconteur who knows absolutely everyone in the hospitality industry.
And throughout our conversation, with a great deal of humor and animation, this self-described "dot connector" does a wild imitation of Wolfgang Puck, explores the meaning of "visions" and the significance of being "one of us," the importance of strategic partnerships, the mystery of "the Bite" among the world's greatest chefs,  the pressure cooker,  intense and stressful nature of special events and hospitality as well as the emotional details of weddings — which are, in the end — simply all about the magic of two people in love.
It's nearly impossible to capture the true essence of a person in one ZOOM conversation, but when it comes to Jim's ebullience, enthusiasm and pure love for what he does, you come pretty close. What's more, you just can't fake his revelations of  his thoroughly "authentic" self.
Sit back and enjoy my podcast with the remarkable Jim McManus.  You're in for a treat. Stay safe and strong,
my friends.
Fondly,
-Doug